Education
Dr.S.Arulrhaj Health and Educational Foundation jointly with Sundaram Arulrhaj Hospital is rendering various services in the field of Education to the surrounding population by running educational institutions recognized by several reputed National & International Universities.
SAH Community College: (Regonised by Manonmaniam Sundaranar University, Tirunelveli.)
As a medical professional for the three decades and the National President of Indian Medical Association, The founder chairman realized there is an immense need for the qualified Health Care Providers Worldwide. In the Year of 1997, Dr.S.Arulrhaj Health and Education Foundation came forward to establish the SAH Community College.
Its committed objective is to provide high standards of professional education in the fields of nursing, technologies and related spheres of education. For meeting the needs & for creating the self employment through vocational Training we are conducting three paramedical courses
Diploma in General Nursing & Midwifery (Recognized by Indian Nursing Council &Tamilnadu Nursing Council)
B.Sc In Physician Assistant (Tamilnadu Dr.MGR Medical University, Chennai)
Diploma in Human care services (Manonmanium Sundaranar University)
Diploma in Diagnostic lab Technique (Manonmanium Sundaranar University)
Students are provided vocational training course in the above field. Most of the students after finishing their courses get placements in various reputed health institutions.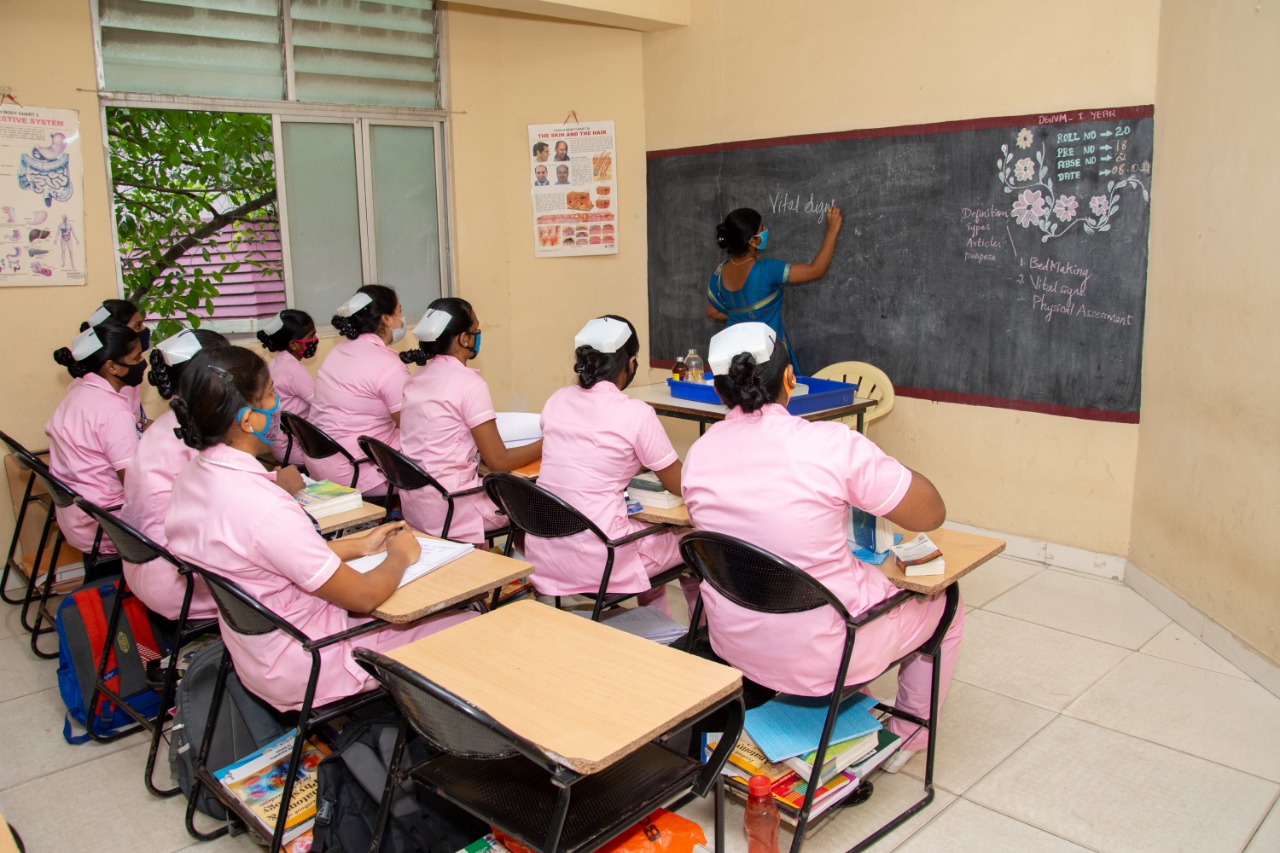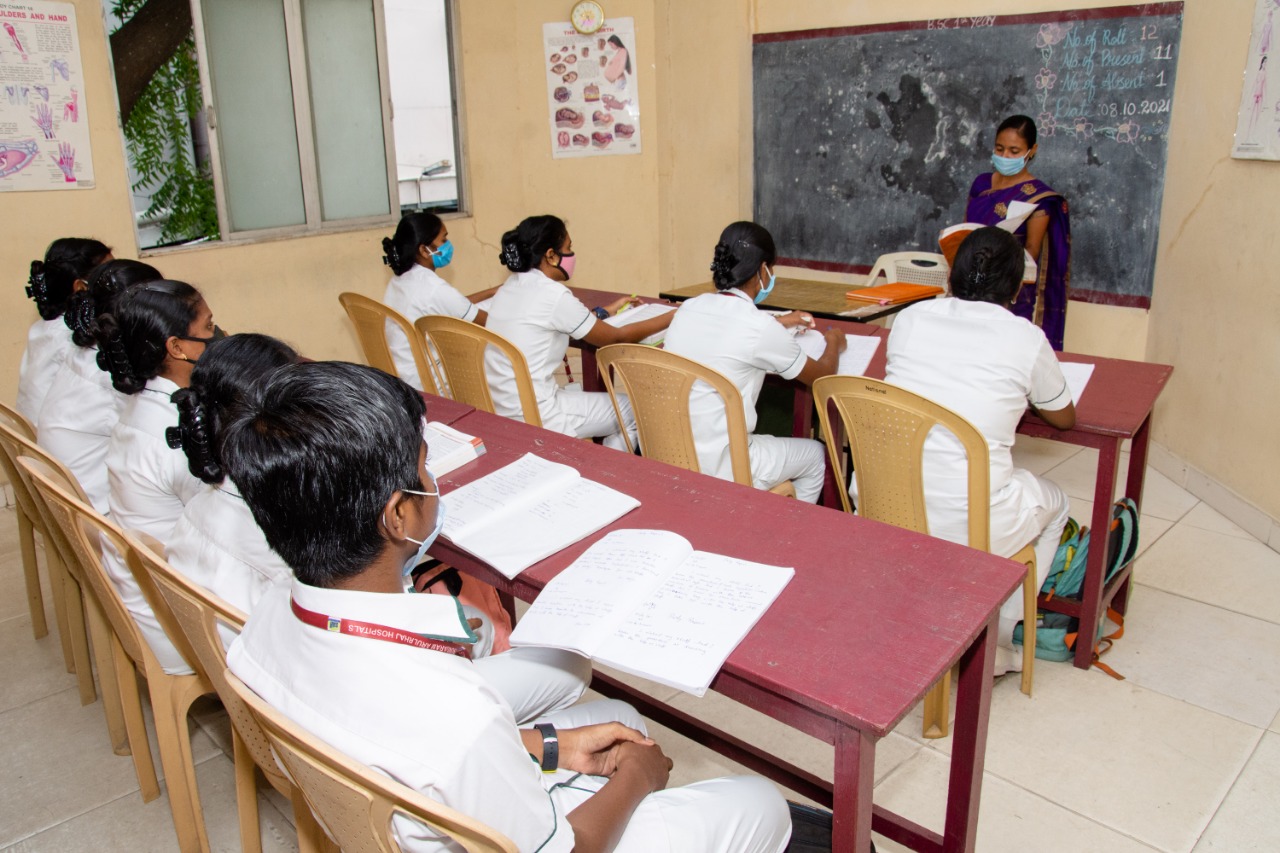 SAH Para Medical College
SAH Para Medical College was initiated by the Dr.S.Arulraj Health And Educational Foundation in the year of 1995. This is carrying out the following courses for rendering the educational services to the Thoothukkudi Population.
Diploma in Nursing and Mid Wifery ( Tamilnadu Board of Nursing )
Certificate in Medical Laboratory Technology (Recognized by Govt.of Tamilnadu.)
Apprenticeship Training in Nursing. Recognized by Ministry of HRD, Govt. of India.

Para Medical College is functioning for 4 years and more courses are being added this year. These courses are supported by a full-fledged high tech hospital with an inbuilt hostel facility.
Vinayaka Mission Deemed University Recognized Study Centre:
Our foundation have been recognized by the Vinayaka Mission Research Foundation ( Deemed University, Salem) for more than 45 Nursing and Paramedical courses. The course list are mentioned below :
B.Sc ( M.L.T)
Diploma in Physiotherapy(DPT)
Bachelor in Physiotherapy(BPT)
Master of Physiotherapy(MPT)
M.Sc ( Applied Microbiology)
B.Sc Nursing( Lateral Entry)
M.Sc( Health care and Hospital Management)

and various Diploma and Certificate courses
For Doctors the following Post Graduate Medical Courses are provided:
DNB (Internal Medicine) 3 yrs courses leading to Diplomate in National Board of Examination accredited by National Board of Examinations, New Delhi. - www.natboard.nic.in

DFM & MD (Family Medicine) Recognized for training courses and qualification awarded by university of Colombo, Srilanka.

FCGP Fellowship of college of General practitioners (IMA, New Delhi) etc.

PGDEM Emergency Medicine by GWU, USA

Continuing Medical Education:
For Doctors in practice a monthly Continued Profession Development Programme is organized, Annually ACME ?annual conference is conducted in March every year.
SAH School for the Different by Abled:
This special Schooll with Day Care & Residential care for the Differently Abled Children is functioning well for 15 years under the care of qualified special Teachers, Physiotherapist, Speeches Therapist & Nurses.